"にんじゃりばんばん (Ninja Re Bang Bang)" by Kyary Pamyu Pamyu (きゃりーぱみゅぱみゅ) is featured on Just Dance Hits.
Appearance of the Dancer
Edit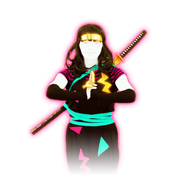 The dancer is a girl based off of a ninja. She has brown curly hair and is dressed in a black and blue ninja costume, containing lighting bolts and triangles, turquoise sneakers, a green belt, and a yellow bandana. She is carrying a black katana on her back. At the end of the routine, the dancer transforms into a tree stump with cherry blossoms. She resembles Kyary Pamyu
Pamyu in the music video.
Background
Edit
The background is a dojo with several rooms. The first room has a blue wall with ice cream-like substance and shuriken stars. That wall turns orange and has a shuriken pattern. The second room has a wall with pink clouds and a lightning bolt. The third room has an orange wall with shuriken stars changing into birds. Next is a pow-like symbol with a color-changing backdrop, various shuriken stars, and colored clones of the dancer. After that, the dojo appears again but has slight changes to it. It has no wall, two pillars, and a blue Kyoto-like scenery with confetti and a koi fish. This rotation repeats for the next verse and chorus.
Gold Moves
Edit
There are 9 Gold Moves in this routine:
Gold Moves 1, 4, 8 and 9: Put your right arm and right leg up quickly.
Gold Moves 2 and 6: Turn your body sideways and point towards the screen with your right hand.
Gold Move 3: Bend down, put your left foot behind your right foot and point to the right.
Gold Move 5: Similar to Gold Move 3 but you point both hands in a direction so that they are visible.
Gold Move 7: Stand up straight and slam both arms down with your palms visible.
The song originally apparead as Ninja Re Bang Bang in english, however, it was later changed to her japanese name.
This was one of the first songs to be revealed for Just Dance Hits.
Game Files
Edit
In-Game Screenshots
Edit